The Talented Dr. Amy Tran
We're always looking to build and improve our team of exceptional professionals who are dedicated to oral health; so we were very excited to welcome Dr. Amy Tran to the team! The icing on the cake…she was featured in Inside Livingston Magazine!
If you haven't met Dr. Tran yet, allow me to introduce her. Dr. Amy Tran received her dental degree from The Rutgers School of Dental Medicine. She then completed a general practice residency program at Morristown Medical Center. Dr. Tran was born and raised in Queens, New York until her family moved to East Brunswick, NJ. She graduated Summa Cum Laude from Rutgers University – New Brunswick, where she majored in Cell Biology and Neuroscience — while double-minoring in Nutrition and Sociology. When she's not practicing dentistry, Dr. Tran enjoys hiking, painting, and trying out new restaurants.
Dr. Tran points out in her interview with Inside Livingston Magazine that, as a new associate, she has been trained in newer technologies; and that innovative skillset compliments the rest of our team very well. We love that Dr. Tran has a unique interest in the impact of oral health on overall health and wellness. That mindset, along with a dedication to providing solutions instead of services, is essential for the experience that we are aiming to cultivate and deliver to our patients.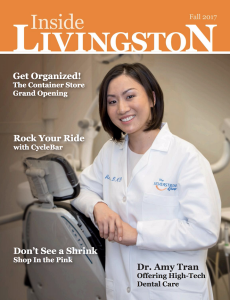 Dr. Tran isn't just an exceptional dentist here at The Silverstrom Group — she takes her passion for helping people on the road in dental outreach programs created to screen and educate adults and children alike. She shares in her interview with Inside Livingston Magazine that her commitment to give, serve, and educate is incredibly important to her identity and was part of the reason she decided to join The Silverstrom Group as opposed to another practice.
If you're a fan of "old-fashioned customer service", you'll love Dr. Amy Tran. Patient-trust and confidence mean the world to her, as it does to the rest of our team. Dr. Tran combines a love of truly caring for her patients in an "old-fashioned", very personal way with staying up-to-date on all of the latest, most innovative dental technologies. Many dental practices simply stop innovating and improving over time, but when you come to The Silverstrom Group, you can be certain that we will use the latest technology to help improve your oral health.
You can read Dr. Amy Tran's full interview
in this issue of Inside Livingston Magazine
. It is an honor to have one of our dentists featured in
Inside Livingston
— a magazine that is so focused on the growth of local businesses in the Livingston area. Our community is important to us and we dedicate many of our philanthropic efforts to Livingston residents.