The Silverstrom Group:
What a Trip to the Dentist Should Be
The Silverstrom Group is a dental spa located in Livingston, New Jersey that makes a trip to the dentist something to look forward to—even enjoy!
Meet The Team & Visit Our Complete Health Dentistry
Dr. David Silverstrom and Dr. Gary Silverstrom lead a group of professionals who have devoted their careers to the comfort, safety, and overall satisfaction of their patients. From the nurturing environment to the calming ambiance, our practice caters to all ages and boasts advanced technology, highly trained staff, a relaxation room, and a complimentary café area. With more than 30 years of experience, The Silverstrom Group educates patients on how oral health impacts overall health.
Experienced Dentists
Each doctor has the highest skills and training, including hundreds of hours per year in advanced educational programs that far exceed their licensure requirements. The doctors and staff participate in continuing professional education courses where the latest trends, best practices, and state-of-the-art dentistry are showcased.
Professional & Friendly Staff
From check-in to check out, you will receive exceptional, personable service in a contemporary—yet comfortable—environment. Our award-winning dentists, Dr. David Silverstrom and Dr. Gary Silverstrom, along with the staff, create lasting relationships with patients that epitomize our dedication to excellence.
Spa-Like Environment
From the moment you set foot in our contemporary spa-like office, a group of friendly, highly trained professionals who truly care about you and your smile will be at your service. We have complimentary refreshments, on-demand video in dental suite w/headphones, and hot towels to freshen up with after treatment.
Same Day Dentistry
Our top-rated practice features a state-of-the-art dental laboratory where we custom-craft crowns, bridges, and dentures. The in-house lab utilizes computerized dental technology (CEREC) to create these restorations in a day, which means no temporaries and no second appointments, preventing multiple visits.
Award-Winning Care
We've been awarded several medals from our patients and the New Jersey community. We've been awarded Best of Essex six years in a row, from 2012 to 2018. We've also received the Top NJ Dentist award for the years 2016, 2018, and 2019. We hope to continue earning these accolades!
Advanced Technologies
We use the most modern technology available. Advances in the science of dentistry allow for greater patient comfort, better preventative care, and a more conservative approach to treatment. This enables the doctors to diagnose dental diseases, such as tooth decay, in their earliest stages.
Dr. David Silverstrom and Dr. Gary Silverstrom proudly care for patients of all ages; they have the skills, knowledge, and resources to meet the special needs of young children, the elderly, and members of every age group in between.
At The Silverstrom Group,
we change lives
daily through the power of cosmetic dentistry. A person's smile communicates volumes about who they are and how they take care of themselves. People with attractive, healthy smiles project
self-confidence
that is invaluable in various situations, from social interactions to business affairs. By enhancing your smile, you are improving every aspect of your life.
Cosmetic dentistry goes beyond just dental problems and dental work. It is a comprehensive smile makeover plan suited to fit your unique facial features and aesthetic preferences. It comes with dramatic results — both in terms of how you look, but especially how you feel.

Dental Implants
If you are missing teeth, dental implants are the best long-term solution that look and feel completely natural. Our doctors use a medical-grade titanium implant fixture that actually fuses to living bone, and place a permanent crown on the implant, allowing patients to regain the freedom that they enjoyed with their original teeth.

Custom Dentures
Want a permanent, hassle-free alternative to removable dentures that will keep you smiling and looking like yourself again for the rest of your life? Your missing teeth can be replaced easily with custom implant-supported dentures that will function and look like natural teeth.

Porcelain Veneers
We use the highest-quality medical-grade porcelain to craft custom veneers that are durable and completely natural looking. Dr. David Silverstrom and Dr. Gary Silverstrom work closely with patients to design a unique smile that harmonizes with the surrounding features of their face.

Dental Bonding
Dental bonding is a procedure in which a composite-resin material is applied to the surfaces of the teeth. Although we generally perform bonding as a primarily cosmetic procedure, it also offers numerous oral health benefits, especially when used to restore the structure of chipped or broken teeth.

Dental Crowns
We produce natural-looking dental crowns of the most surpassing quality for their patients with the finest materials. Dr. David Silverstrom and Dr. Gary Silverstrom use crowns for a variety of applications, from sealing teeth that have undergone root canal therapy to topping dental implants that have been surgically placed.

Dental Bridges
Among the most effective and time-tested methods of replacing missing teeth, fixed dental bridges are remarkably strong, stable, and natural-looking. Dr. David Silverstrom and Dr. Gary Silverstrom will customize your bridge with biocompatible tooth-colored materials, ensuring that it fits flawlessly into your smile.

Smile Makeover
Designing the perfect smile is equal parts art and science. At The Silverstrom Group, we consider ourselves smile architects of the highest order. We understand that your perfect smile is one that will be unlike any other. Dr. David Silverstrom and Dr. Gary Silverstrom have the talent and passion both to imagine your ideal smile and to make it a beautiful reality.

Teeth Whitening
Eventually, everyone's teeth begin to lose some of their original luster, becoming increasingly dull and discolored. Staining agents, such as coffee, tea, red wine, tobacco, and some medications, can certainly speed up the process. Drs. David and Gary Silverstrom often combine teeth whitening with other cosmetic treatments, such as porcelain veneers and crowns, as part of a comprehensive smile makeover.

Custom Invisalign
Invisalign® uses a series of clear plastic aligners to gently guide teeth into their proper position, based on a careful analysis of a patient's current bite with relation to his or her ideal bite. Treatment requires roughly the same amount of time like that with traditional orthodontic appliances and produces equally impressive results.
Seventy-five percent of medical costs are caused by chronic disease that we can prevent. It has become a monumental discovery in the medical world that oral health impacts overall health, creating a new way of thinking with respect to preventing systemic illnesses. Complete Health Dentistry is a core philosophy at The Silverstrom Group. When in balance, the community of billions of bacteria in the mouth actually protects and supports your body's ability to live. However, when disturbed, it produces bad bacteria that lead to gum disease. Gum disease has been identified as the most abundant source of chronic low-grade inflammation that causes a decrease in our immune response, and eventually, irreversible damage to the immune system. The mouth is a window to your health and we aim to protect it.

Professional Cleaning & Exams
Our dental approach is based on Complete Health Dentistry, the philosophy that your mouth is a window to your health. We want to partner with patients to maintain overall health, and that includes a healthy bacteria-free mouth. In doing so, a strong regimen of brushing, flossing, and making routine visits to the dentist at least every six months is imperative.

Family & Pediatric Dentistry
We make children as comfortable as possible at The Silverstrom Group. We know that most children do not think going to the dentist is fun, but our job is to prove them wrong—and we do so every day! Our dentists love working with kids of all ages.

TMJ & TMD Disorder Treatment
Do you experience pain in your jaw when you speak or chew? Are there times when your head and neck begin to ache, and over-the-counter pain medications just don't help? If so, you may be one of the millions of people who suffer from TMJ disorder.

Snoring & Sleep Apnea Treatment
Many people are surprised to learn that our dental professionals are experts in the treatment of these breathing disorders like sleep apnea. We have helped many of our patients get a good night's sleep once again, and we would welcome the opportunity to do the same for you.

Root Canal Procedure & Therapy
So many people are convinced that getting a "root canal" is such a horrible ordeal that they prefer to live with tooth pain. However, modern root canal therapy is a gentle, relatively simple procedure that can immediately alleviate nagging tooth pain.

Complete Health Dentistry
At The Silverstrom Group, we offer a full suite of services designed to diagnose potential dental problems and promote good oral health.
Voted Best Dentist 10 Years in a Row


Your Dental Health Starts Here
Flexible scheduling and dedicated patient support.
Or call — (973) 992-3990
24/7 service. Same Day Appointments are Available.
The Silverstrom Group, conveniently located in Livingston, New Jersey, proudly serves patients from Essex, Union, and Morris Counties including Millburn, Short Hills, Summit, West Orange, Chatham, Madison, Florham Park, Maplewood and all surrounding communities and towns.
We also serve patients from New York City, and the entire United States.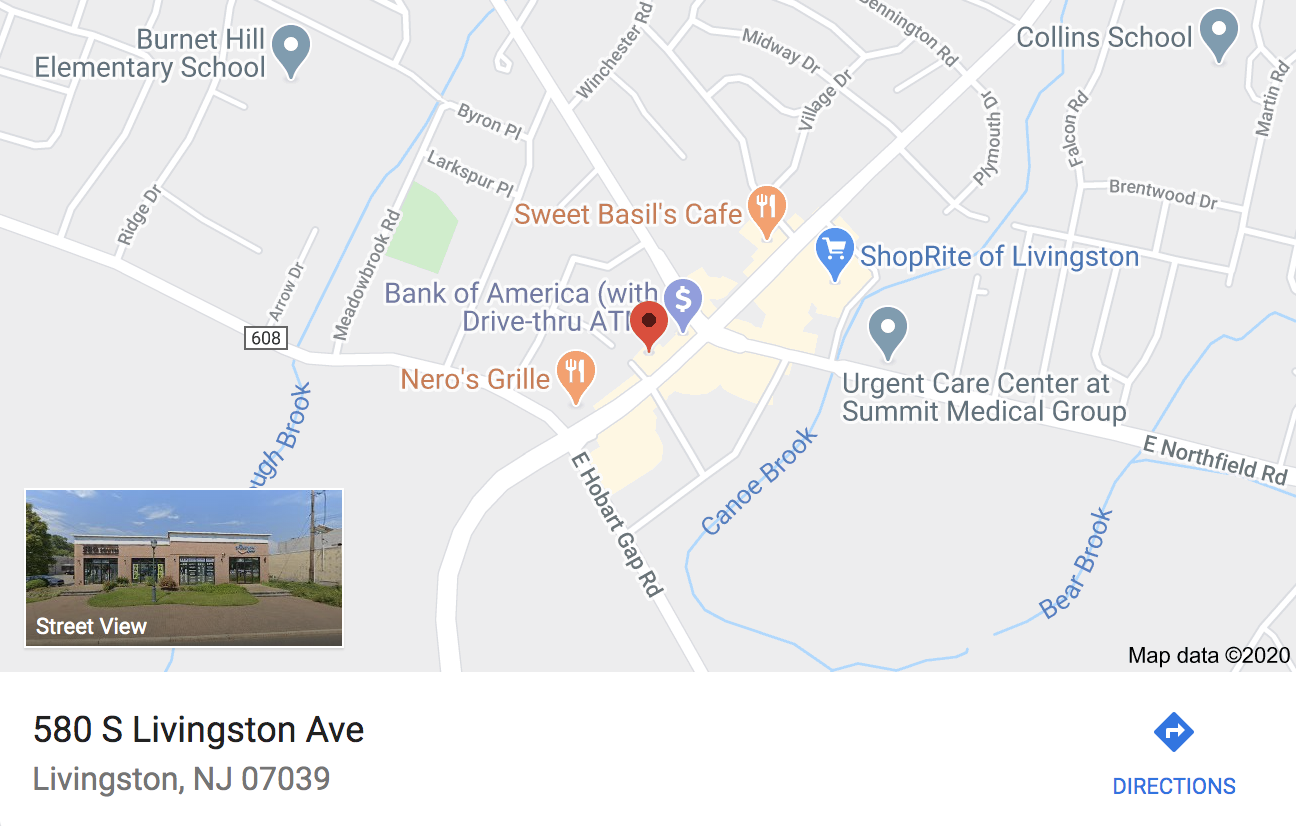 580 S Livingston Ave Livingston, NJ 07039
Mon: 8:00am – 8:00pm
Tue: 8:00am – 8:00pm
Wed: 8:00am – 8:00pm
Thu: 8:00am – 8:00pm
Fri: 8:00am – 4:00pm
Sat: 8:00am – 1:00pm
Sun: closed