Known for its history, cultural sites, family-friendly activities, dining and shopping, Morristown is a great place to enjoy a variety of leisure activities. Among the variety of restaurants to choose from is David Todd's City Tavern, a casual but classy establishment offering nouveaux American cuisine with French flair. Menu items include Moules Mariniere with white wine sauce; Short Rib Pierogies with ricotta cheese; and Lamb Loin with creamy rosemary polenta. The main dining room décor has a clean contemporary feel with historical text on the walls that retell the history of Morristown.
Tuna Tartare tasting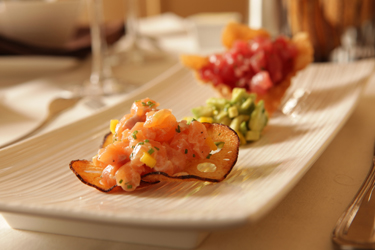 Although the food is the main reason to visit this establishment, we think the flights offered from the bar give another (fun) excuse to visit David Todd's. Wine aficionados can pick up to three of either white or red wines for a flight experience. There are about 30 wines to choose from (varietals change throughout the year) and on the last Thursday of each month the restaurant holds "Complimentary Tastings" that offer guests new wines to test their appeal.
Scotch, whiskey, tequila, cognac, dessert wine, and beer fans can also enjoy three-glass flights from prices starting at $5.00. Bar Manager, John Sierchio, shares, "All flights are reasonably priced and most with a large selection. The lists to choose from can be found on the two menus all guests are given upon being greeted. It offers the guests a way to taste various types of new or higher-end wines and spirits without paying the high price of buying one specific brand. It's a great way to experience and learn."