Here at The Silverstrom Group, we see a lot of patients who are missing teeth and want to do something about it, but they aren't sure what their options are. We love working with these patients and showing them how dental implants can provide a long-term solution, look and feel natural, and actually improve their overall health.
What are dental implants, and how can it affect you?
Tooth loss affects more than half of Americans over the age of 35, so if you are missing teeth, you're not alone. Dental implants are the best long-term solution for replacing your missing teeth and the implants look and feel completely natural. Our doctors use a medical-grade titanium implant fixture that fuses to living bone; we place a permanent crown on the implant, allowing patients to regain the freedom that they enjoyed with their original teeth.
What many people don't realize is that losing a tooth is not just a cosmetic issue. People that suffer from tooth loss have a greater risk of tooth decay, gum disease, and further tooth loss. Dental implants can actually prevent bone loss that occurs with missing teeth; they can last a lifetime; and they do not cause additional wear and tear on adjacent teeth. Some of our patients even see an improvement in their overall health once they are able to eat hard foods again, like nuts and certain fruits. Since our focus is on helping you improve your overall health via your oral health, these are the results that we love to hear about from our patients.
With more than 30 years of experience, The Silverstrom Group educates patients on how oral health impacts overall health. We work closely with our patients to help them improve their overall health via their oral health. Some people will never enjoy going to the dentist, but we have worked to make your visit as enjoyable and relaxing as possible, and our patients love it! That's why The Silverstrom Group has been won the "Best Dentist Award" for 6 years in a row.
Looking for dental implants or a nearby dentist?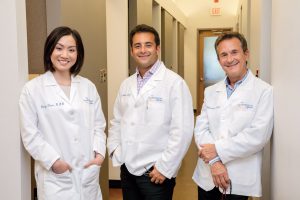 Do you live in Short Hills, Millburn, Livingston, West Orange, Summit, Chatham, Madison, South Orange, Maplewood? Are you looking for the best dental implants service near you? We are a ClearChoice Dental Implants center. Please contact us to learn more about our affordable ClearChoice dental implants and cosmetic dentistry consultation. We serve patients from NJ and NYC and we look forward to providing you with the most convenient and comfortable dental experience you have ever had.
Whether you've lost one tooth or many, we'd love to show you just how powerful dental implants can be for restoring your oral health and confidence in your smile.