Every year, there are more and more interesting oral care products that come out and as dentists, we love keeping an eye on what's new and worth trying. These are 5 of the coolest oral care products we've seen recently that you might want to try out this year.
Before we get into those oral care products, we want you to know that these are not in-order rankings and that we're not making endorsements or professional recommendations in this post. These are simply products that you can use to upgrade your oral care routine.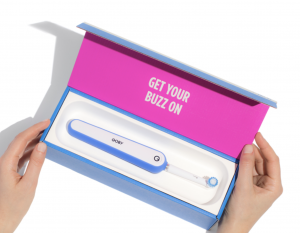 1. Goby Electric Toothbrush
Rotationally oscillating toothbrushes are proven to clean better than a manual toothbrush, and until now, they were very expensive–putting them out of range for a handful of people. Goby does things a bit differently by selling directly to consumers; they're able to offer a premium electric toothbrush at a fraction of the price. They also offer a subscription service that regularly sends replacement brush heads so you'll never have to worry about minimizing the toothbrush's effectiveness.
The Goby Electric Toothbrush has a small, round brush head that oscillates back and forth, and a single button is used to turn the brush on or off and to change the setting from standard to sensitive. The brush alerts the brusher to move to another quadrant every 30 seconds and automatically shuts off after two minutes. You've always been told that you should brush for 2 minutes, but let's be honest, most people don't. This toothbrush will help you get into that habit effortlessly.
The brush has a sleek design that is available in a variety of colors. According to the company, the Goby only requires 2 charges per month. Priced at $65, or $50 with a brush head subscription, the Goby Electric Toothbrush is a relatively inexpensive option that makes maintaining your oral health easy.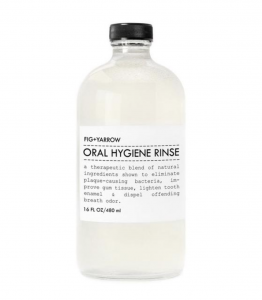 2. FIG+YARROW Oral Hygiene Rinse
FIG+YARROW is an artisan line of handcrafted botanical products formulated for health + handsomeness that started as a small apothecary in Denver and has grown to now have products available in large retailers like Target. Their products are organic, small-batch, and handcrafted using natural ingredients. FIG+YARROW describe their Oral Hygiene Rinse as "a therapeutic blend of pure and natural ingredients to be employed for the dispelling of offensive breath odor and general enhancement of the oral theater".
It's refreshing to see a brand be so transparent about their ingredients. The Oral Hygiene Rinse has several natural ingredients: green tea extract helps to soothe inflamed gum tissues, cooling aloe to support healthy oral microflora, and xylitol which is a carbohydrate found in the birch tree that naturally sweetens while reducing plaque.
FIG+YARROW offer their Oral Hygiene Rinse in travel sizes as well as in their 16 FL OZ bottles that cost $26 through their website. Customers report that this is a very refreshing rinse that they love starting their day with; and when you enjoy taking care of your oral health, it means you're more likely to do it.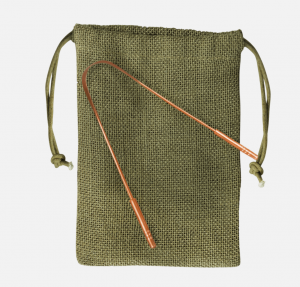 3. Earth Shift Copper Tongue Cleaner
The bacteria on our tongues form a biofilm, or a group of microorganisms, that stick together on the surface of the tongue. These aren't removed simply by using mouthwash, but your toothbrush or a tongue scraper will do the trick, and that's where Earth Shift's Copper Tongue Cleaner comes in.
Most tongue cleaners on the market are disposable which adds to the astounding amount of plastic that we throw away. Earth Shift's Copper Tongue Cleaner is made of durable copper which means it is unlikely that you'll need to replace it. Its pre-curved shape gives precise control, plus rounded notches at either end help you grip the tongue cleaner while you're using it. For something durable and sustainable, you might expect to pay quite a bit, but the Earth Shift Copper Tongue Cleaner is only $6.99.
As a brand, Earth Shift believes that a healthy lifestyle starts with one choice at a time and adding a durable, long-lasting tongue cleaner to your oral care routine is an easy way to do just that.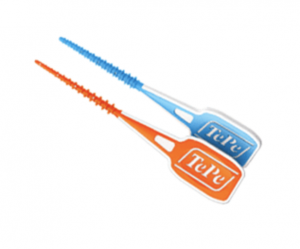 4. TePe EasyPick
The TePe EasyPick was designed for on-the-go use and to provide a cost-effective solution to remove trapped food and also to help people reach the hidden 40% of the tooth that regular tooth brushing misses. Using dental floss is great but it isn't always feasible while you're out of the house or traveling. The TePe EasyPick can be used discreetly in public to remove trapped food from your teeth.
The core of the EasyPick is both stable and flexible, and the silicone coating cleans efficiently between the teeth and feels comfortable on the gums. The comfortable, non-slip grip ensures a steady cleaning. The material used in the TePe EasyPick is strong and flexible, which makes it easier to reach between your back teeth and ensures you aren't missing any spots when you brush or floss.
The TePe EasyPick comes in 2 conical sizes for easy cleaning of all interdental spaces and both come with a convenient pocket case. You can order a 36-pack of the size of your choice from TePe for just $4.95.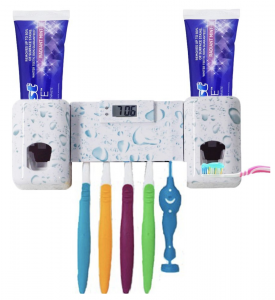 5. Wekity Toothbrush Holder
If you have multiple people sharing a bathroom, you know how messy it can get so bathroom organization is key. The Wekity Toothbrush Holder has an automatic dispenser with vacuum pump squeeze out the amount of toothpaste you need a less wasteful and more hygienic way. There are 2 dispensers on this holder in case not everyone in your family uses the same toothpaste. It protects toothbrushes from dust and other air pollutants, and it also prevents mold.
You've probably heard that you should be brushing your teeth for 2-3 minutes, but do you actually time yourself? Most people don't because it's not convenient, which is why we love that this toothbrush holder has a timer built right into it. The Wekity Toothbrush Holder can be easily affixed to smooth tiles walls or mirrors, keeping toothbrushes and toothpaste off your sink top and out of the way. This toothbrush holder measures just 3.9 x 2.4 x 3.1 inches so it doesn't take up much room but still holds 5 toothbrushes and 2 tubes of toothpaste. This toothbrush holder is very popular on Amazon and has many positive reviews so we think it's worth checking out!
Any of these 5 products can help you change and upgrade your oral health in 2018, so give them a try and let us know how they work for you!