To Our Dear Friends,
Over the past few months, Harold, patriarch of our family and baseball aficionado, has been transferred to an assisted living facility. At 93 years of age, living independently was becoming increasingly difficult and a daily challenge. Change is often not easy for any of us–and certainly not for a man of the "Greatest Generation."
I learned much about my Dad this summer, after his mild stroke; I learned about his courage, perseverance, and resolve to rehabilitate himself. I watched him work hard at physical therapy, adapt to a new environment, and interact with unfamiliar people.
I asked him if he was tired, and how he saw himself going forward–and about what as a family we could do to assist him with his wants and needs. His response was immediate and unequivocal, answering, "Absolutely not, I am not tired. I am prepared to do whatever is necessary to continue to enjoy my life and my family as I have always done before."
Harold continued a rigorous regime of physical and occupational therapy, and we all celebrated his 93rd Birthday in September. Here, I saw my Dad differently: perhaps as a hero, a role model of courage, and someone who leads by example. I told him that; and that surprised him, as he said he never saw himself as such. However, this is what he has given to all of our family.
Family Day was celebrated at his new home with his new friends. Posted on the wall, throughout the facility, was something that touched me deeply. It's a poem that I want to share with you all this Thanksgiving season: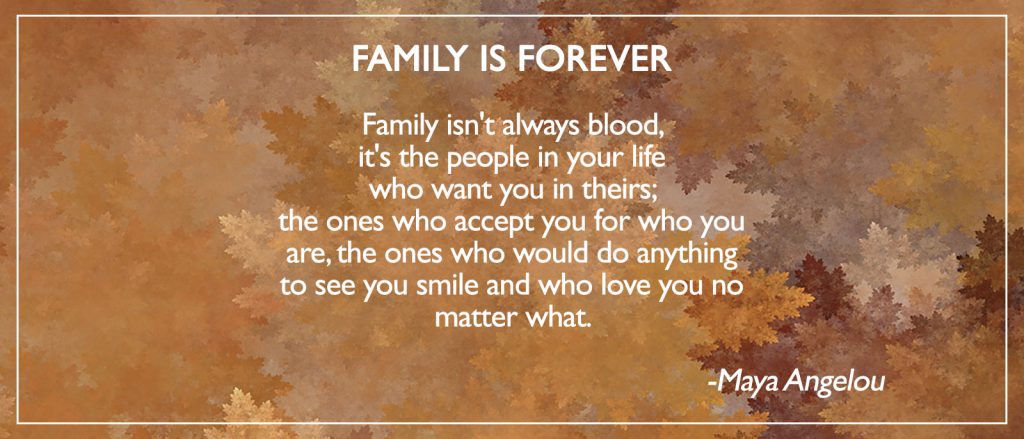 I requested a copy of this beautiful poem and held it close to my heart.
The next day, I shared it at the morning meeting with our Team.
As a parting sentiment, before you fly off to be with family, we, at The Silverstrom Group, would like this share this note with you:
___

Our dear patients and friends, you are our family.

As we head into Thanksgiving season, we reflect and give thanks for the good fortune in our lives. We, at The Silverstrom Group, wish to take a moment and thank you for the good fortune of having you as one of our patients. We view all of our patients as extensions of our family, and we very much appreciate that you have entrusted your health to our care. The fact that so many of our patients have been with us for years and that they, too, have brought 'next generations' into The Silverstrom Group is professionally rewarding and personally meaningful.

Those that have met our wonderful associate, Dr. Amy Tran, understand why she is now an important part of our family. Dr. Gary, Dr. Amy, and I understand that, together with you, we are the fabric of each other's lives. It is our sincere wish that you and your family be blessed with good health–and that your home be filled with many bright smiles this Thanksgiving season and throughout the year.

Warm regards,

Dr. David Silverstrom and The Silverstrom Group