Looking for the best cosmetic dentists in Livingston, NJ? Our dental practice is conveniently located in Livingston, NJ serving patients from Northern and Central New Jersey including Millburn, Short Hills, West Orange, Summit, Maplewood, South Orange, Florham Park and all surrounding towns. We also provide dental care services to patients from NYC.
With more than 30 years of experience, The Silverstrom Group educates patients on how oral health impacts overall health. We work closely with our patients to help them improve their overall health via their oral health. Some people will never enjoy going to the dentist, but we have worked to make your visit as enjoyable and relaxing as possible and our patients love it! That's why The Silverstrom Group has been won the "Best Dentist Award" for 6 years in a row.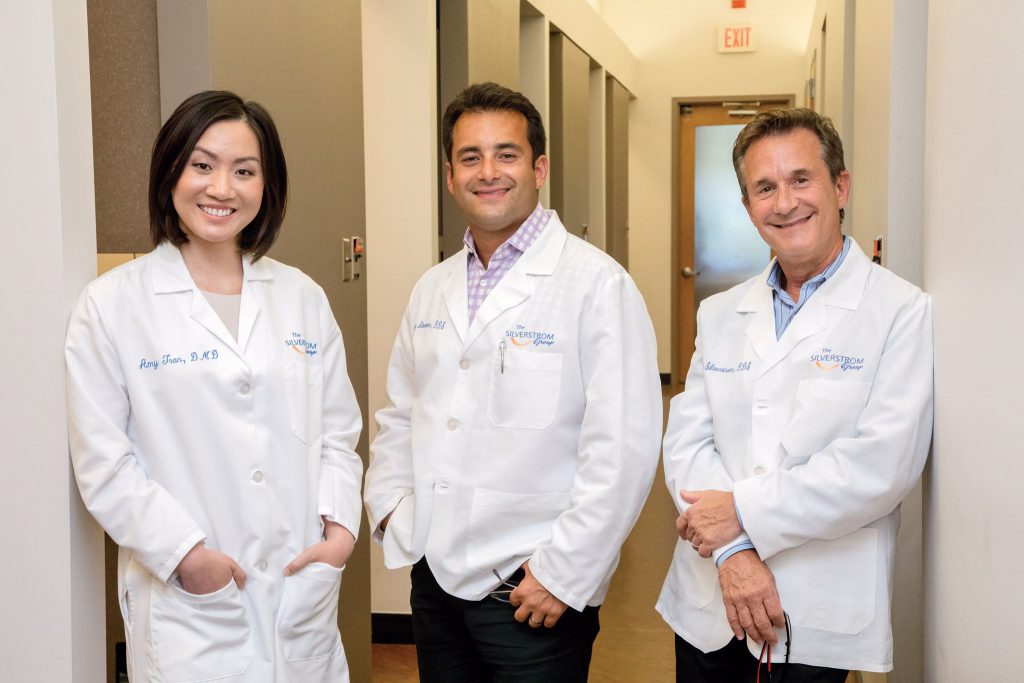 Here are just a few of the comprehensive dental services we provide at The Silverstrom Group:
1. Smile Makeovers
Your smile is unique, so it makes sense that there is no single approach to performing a smile makeover. When you come to us for a smile makeover, our dentists will carefully evaluate your teeth, gums, jaws, and facial structure, and suggest a course of treatment tailored specifically to you. You will be a full collaborator in the design of your new smile. We will discuss your aesthetic goals, help you to establish realistic expectations, and fully explain all of your treatment options.
Our revolutionary smile imaging program will allow you to preview how you might look after undergoing certain procedures. We can digitally manipulate an image of your smile to simulate the effects that porcelain veneers, teeth whitening, and other treatments would have on your appearance. Essentially, you will have the opportunity to "try on" any of the options we offer before committing to a treatment plan!
2. Dental Implants
If you are missing teeth, dental implants are the best long-term solution that look and feel completely natural. Our doctors use a medical-grade titanium implant fixture that actually fuses to living bone; we place a permanent crown on the implant, allowing patients to regain the freedom that they enjoyed with their original teeth.
Dental implants can actually prevent bone loss that occurs with missing teeth, they can last a lifetime, and they do not cause additional wear and tear on adjacent teeth. Some of our patients even see an improvement in their overall health once they are able to eat hard foods again, like nuts and certain fruits. Since our focus is on helping you improve your overall health via your oral health, these are the results that we love to hear about from our patients.
3. Teeth Whitening
If you've ever thought to yourself that your teeth just don't shine quite as brightly as they used to, you're not alone. Eventually, everyone's teeth begin to lose some of their original luster–becoming increasingly dull and discolored, and common staining agents, such as coffee, tea, red wine, tobacco, and some medications, can certainly speed up the process.
We offer two outstanding solutions: the revolutionary Zoom!® teeth whitening system and the KöR Whitening Deep Bleaching™ System. At our cosmetic dentistry practice, we are able to brighten teeth up to 10 shades in under an hour with the in-office Zoom!® teeth whitening system or up to 16 shades with the KöR Whitening Deep Bleaching™ System. Our dentists can also provide custom-made whitening trays as part of a take-home, teeth-whitening kit.
Perhaps the best part about the Zoom!® teeth whitening system is that you can easily fit it into your busy schedule. For many patients, the entire process takes approximately 45 minutes and you can kick back and relax while enjoying music on our headsets or watching a Netflix on-demand movie or Apple TV. In fact, you probably won't even have time to finish your movie before it's time to head out and show off your newly brightened smile!
4. Invisalign
Although many people think of orthodontic treatments as something only teenagers have, nearly one-quarter of all orthodontic patients are adults. For many of them, the idea of wearing traditional metal braces can be enough to prevent them from getting an orthodontic treatment but Invisalign® provides an alternative that won't make you feel self-conscious.
Invisalign® uses a series of clear plastic aligners to gently guide teeth into their proper position, based on a careful analysis of a patient's current bite with relation to his or her ideal bite. The aligners are virtually invisible when worn and very difficult to detect, even upon close inspection. Treatment requires roughly the same amount of time as that with traditional orthodontic appliances and produces equally impressive results without having to wear metal gear in your mouth.
If you have poorly aligned teeth, crowded teeth, unevenly spaced teeth, or an overbite, you may be a suitable candidate for Invisalign® treatment. The aligners are particularly effective in correcting cases of mild to moderate misalignment, and we've had great success straightening and re-aligning teeth with this method. If you've always wanted a straighter smile but were turned off by the idea of wearing braces, Invisalign® may be a great solution for you.
5. Cleaning & Exams
75% of medical costs are caused by chronic diseases that we can be prevented. It has become a monumental discovery in the medical world that oral health impacts overall health, creating a new way of thinking with respect to preventing systemic illnesses. Complete Health Dentistry is a core philosophy at The Silverstrom Group and that is why we are so insistent that our patients have regular cleanings and exams.
You probably know that it is recommended that you visit your dentist at least twice a year for routine check-ups to preserve your oral health, but did you know that at The Silverstrom Group we are able to spot problems before they even arise? Our DIAGNOdent® laser allows us to detect dental decay in its earliest stages, while our intraoral camera and digital x-ray machine will give us a detailed look at the inside of your mouth.
We know that many people don't exactly enjoy going to the dentist, so we have created a spa-like environment where you can relax and distract yourself with your favorite show on Netflix. Improving your health has never been so easy!
We invite you to discover how pleasant, productive and fulfilling a trip to the dentist can be. Call us today (973) 992-3990 to schedule an appointment with one of our dental experts.