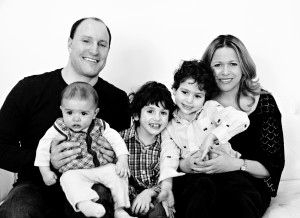 Full Name: Dr. Kristen Blumberger
Position and role at The Silverstrom Group: Endodontist
Where are you from originally? Where do you live now?
I grew up in Little Silver, NJ where I reside today.
Tell us about your family
I am married and I have three sons, Jack, Luke, and Dylan.
What made you decide to work as an Endodontist?

After practicing dentistry for five years, I realized I had a desire to treat infection and relieve pain, which led me to completing a post-graduate residency program in Endodontics at NYU College of Dentistry.
What do you enjoy about working at The Silverstrom Group?
My favorite part of working at The Silverstrom group is being part of such an amazing team that prioritizes excellent patient care and phenomenal dentistry. This team strives for excellence!
What is your care philosphy?
Patient care is just as important as clinical care!
Do you have an interesting hobby or talent?
I was a candidate for The Julliard School as a pianist, but decided to go into dentistry instead.
Do you have a favorite book or movie?
I love to read and therefore can't name one favorite book. But here are a few of my favorites…Jane Eyre by Emily Bronte (I love English Literature), The Poisonwood Bible by Barbara Kingsolver, I know this much is True by Wally Lamb, and Siddhartha by Hermann Hesse. My favorite movie is Titanic.