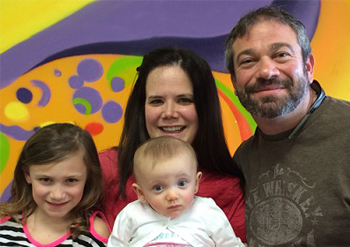 Full Name: Lisa Rinaldi
Role at The Silverstrom Group:
I am the office administrator. I oversee the daily operations by managing employee relations and patient relations to ensure that everyone leaves with a smile at the end of each day. My goals are that the doctors are able to focus on practicing top quality dentistry and the office staff is able to efficiently support them.
Where are you from originally? Where do you live now and for how long?
I was born in New Jersey and grew up in Lincoln Park. When I got married 10 years ago, we bought my husband's childhood home from his parents in Haledon, NJ.
What made you decide to work in healthcare?
I chose healthcare because I love to help people. I felt being part of the healthcare system would make me feel satisfied and I knew it is a field that continuously grows.
What do you enjoy about working at The Silverstrom Group?
I love coming to work every day. It is awesome to be surrounded by dedicated, talented, caring professionals who share a common vision to provide total health and smiles to our patients while having fun. Over the years, our patients have become good friends and extended family, and the best part of my day is seeing them and continuing those relationships.
Have you had any dental work done at The Silverstrom Group? If so, what and how was the process?
I have had quite a bit of restorative and cosmetic dentistry at The Silverstrom Group. My lateral incisors came in as "peg" laterals, so there were gaps in my smile. I feel like a new person after Dr. David improved the appearance of my teeth with porcelain veneers. I finally have the confidence to smile and everywhere I go strangers compliment me on my beautiful smile. My family and friends are amazed at how natural and beautiful my teeth look. I love my new smile and am proud of it for the first time in my life. I also used to experience horrible headaches and jaw pain. Dr. David corrected my bite with some restorative treatment and now I am pain free!
Do you have an unusual/interesting hobby or hidden talent?
I don't have much time for my own hobbies or talents because I have small children. I spend most of my free enjoying and exploring local beautiful places with my family. I am a volunteer Girls Scout leader and member of the PTA.
Do you have a favorite book or movie?
I love Disney Movies.
Have a favorite dental hygiene tip you'd like to share?
My dental hygiene tip would be for my fellow moms out there. Healthy eating habits lead to healthy teeth. Many snacks that children eat can lead to the formation of cavities. Avoid those sticky snacks that stick in the grooves of teeth. Choose nutritious foods, such as vegetables, low-fat yogurt and low-fat cheese.