We love Essex County, from the diverse communities, entertainment and parks to the exceptional local businesses! We want to share our #EssexPride with all of you in a new series called "Smile Files," in which we write about the greatest and latest experiences that we think will make our patients SMILE. First up: South Orange's Ricalton's Village Tavern, which just opened in June. Ricalton's (pronounced like "pickle-tons" but with an "R") is a new American cuisine restaurant with three different sections, catering to families, couples, college kids, everyone!
Owner & GM: Stony, also the owner of Stony's Burgers restaurant in South Orange.
Concept: Ricalton's is a family-friendly restaurant where you can experience an upscale ambiance and eat a high-end steak with a $100 bottle of wine, but also be able to get a burger and a beer for under $20. The menu offers traditional American-style bistro cuisine with Nouveau American flair. The wine menu contains 50 different bottles of wine from $8 per glass options to $200 per bottle premium vintages.
The Main Restaurant: Features a large bar, live music area for acoustic entertainment on Thursdays and Saturdays, a fireplace and plenty of seating (tables and stylish half-circle booths).
The East Wing/Valley Street Bar: Situated in the front on Valley Street, the east wing has a beautiful mahogany bar and can handle up to 80 people for private events. High-end Scotches and bourbons are the main event on the spirits menu.
The Snug: Downstairs is an intimate pub called The Snug, accessible via the main entrance or a side door in the back of the restaurant. Most likely attracting the 20-something crowd (but doesn't discriminate to other age groups of course!), bar-goers while have fun playing on the two dart boards, drinking Irish Whiskey paired with beers, and eating traditional Irish pub food with a modern twist (think Shepherd's Pie with braised short rib).
The Food Review (images below): The Executive Chef Nicholas Severino knows what he is doing! The menu is still evolving since the restaurant is only a month old. The main dining room offers a great mix of American, Latin, and French Bistro favorites. Suggested appetizers include: moules-frites (mussels and fries) in a light white wine sauce; French onion soup that doesn't have the traditional thick cheese on top making it a light pre-dinner pick; and meat-lovers can indulge in the bacon-wrapped jalapeño chicken appetizer. Dinner options include a good list of burgers; fish entrees such as the baked salmon with capers risotto (surprisingly not overpowering with caper flavor); various pasta dishes; and glazed pork ribs that slide off the bone with yuca fries. Everything was well presented and bursting with flavor. If you enjoy white wine, you'll love the New Zealand Sauvignon Blanc, which has a minerally, light, crisp flavor.
The History: James Ricalton was the owner's grandfather who lived in South Orange in the 1880s and was the first school master for the high school. He was commissioned by Thomas Edison to go around the world in search of the perfect light bulb filaments. A true adventurist, Ricalton did this six times, venturing to 60 countries and walked 300,000 miles. When he returned home with the filaments, Edison made the first light bulb shortly after! The vintage photographs on the walls in the restaurant were his taken during those voyages.
Check out Ricalton's on Facebook at https://www.facebook.com/Ricaltons#sthash.klX63KBi.dpuf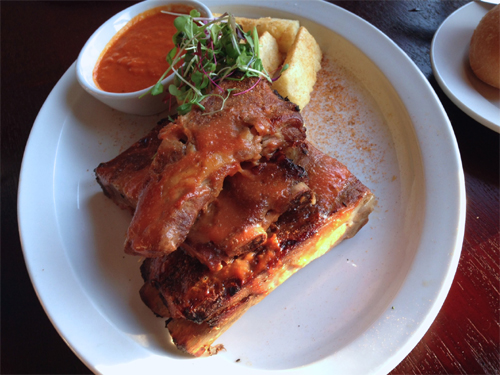 Glazed Ribs with Yuca Fries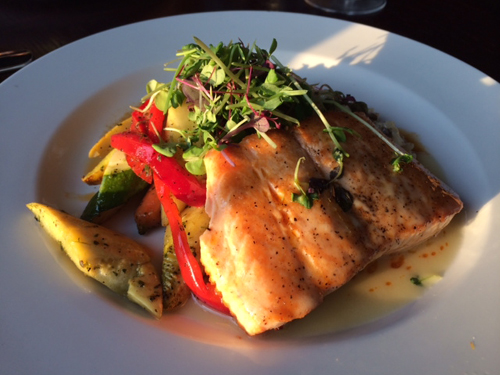 Baked Salmon with Grilled Vegetables and Capers Risotto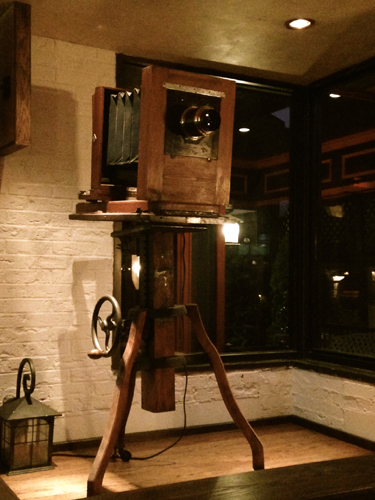 Antique Camera Obscura on Display in Main Restaurant
Nubia is the new Marketing & Communications Director at The Silverstrom Group. She will be sharing Smile Files every month. Have a suggestion or tip? Send her an email at nubia@readytosmile.com.